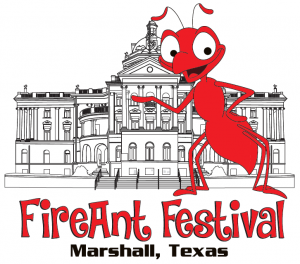 Mark your calendars now as the 36th Annual FireAnt Festival is coming to beautiful Downtown Marshall  on Saturday, October 13, 2018.
As in past years, we will feature the Fidelity Communications Main Stage with Concert and Street Dance, expanded Children's area with monster inflatables, TourDeFireAnt long distance bike ride, FireAnt 5K, Toddler Trot, Kids K, FireAnt Festival parade, Diaper Derby, Gurning contest, Chicken Chunkin' contest, Kids Dance Contest and dozens of vendors to delight the young and old alike.
We have many more surprises as we plan for the largest festival in Marshall's history, including the
Applications for prospective product vendors and food vendors are available now.  Please contact the Greater Marshall Chamber of Commerce at (903) 935-7868 for an application. Product and vendor booths will be assigned on a first come, first served basis in order to be fair to all prospective vendors.  No application will be accepted or assigned a space without requested supporting information (detailed menu or description/photos of products) and FULL PAYMENT.
Like our "FireAnt Festival in Marshall, TX" Facebook page for announcements, contests and special features.