GENESIS PRIMECARE  invites your crawler to participate in the Famous Diaper Derby at the
39th Annual FireAnt Festival
Telegraph Park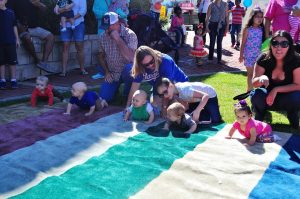 Division 1: 9 months & Up
Division 2: 8 Months & Younger 
FREE Race Registration ~ 10:45 Start Time
Toys Awarded  
REGISTER AT THE ASK ME BOOTH ACROSS FROM THE FIDELITY COMMUNICATIONS MAIN STAGE
Only crawlers, no walkers.
A parent or other interested adult is allowed at the start and end of the carpet. A toy or other object may be used to entice the crawler to the end of the carpet.
The first baby TO TOUCH THE TAPE ON THE CARPET will be DECLARED the winner.
The decision of judges is final.