In honor of our 100th Anniversary, the Greater Marshall Chamber Annual will host the Centennial Celebration on February 19, 2019, at the Marshall Convention Center. This event will honor our history and those in the chamber who have made a significant impact in the community. The event draws over 450+ attendees and is a celebration of the accomplishments of the previous year. Our heartfelt thanks to the many sponsors who contribute to the success of this event.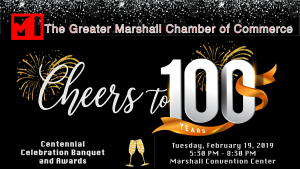 Each year, the Chamber recognizes the Citizen of the Year and Ambassador of the Year. Nomination forms are available from the Greater Marshall Chamber of Commerce at (903) 935-7868 or on our Facebook page.
Individual tickets are $50 each and Sponsored Tables are $500 for tables of 10 seats.
Corporate sponsorships, silent auction items, raffle items, and live auction items are currently being accepted. Please call Kim Brown, Chamber Events Director, at (903) 935-7868 or email kbrown@marshalltexas.com.
Nominations for Citizen of the Year are accepted from January 2, 2019, to Friday, February 1, 2019, at 4:00p.m.  The Greater Marshall Chamber of Commerce Outstanding Citizen of the Year award recognizes an individual or a married couple that have made a significant and lasting contribution during the past year or over a number of years to impact Harrison County.
Outstanding contribution and community service includes areas such as; arts, business, charitable services, education, entertainment, the environment, health, or any other area that contributes to the advancement and well-being of our community.
Recipients will have been judged to have shown,
Inspiring qualities as a role model for the community.
Significant ongoing contributions to the local community.
One or more noteworthy initiatives which have made a positive change in Harrison County and added value to community life.
Nominee must be a resident of Harrison County.