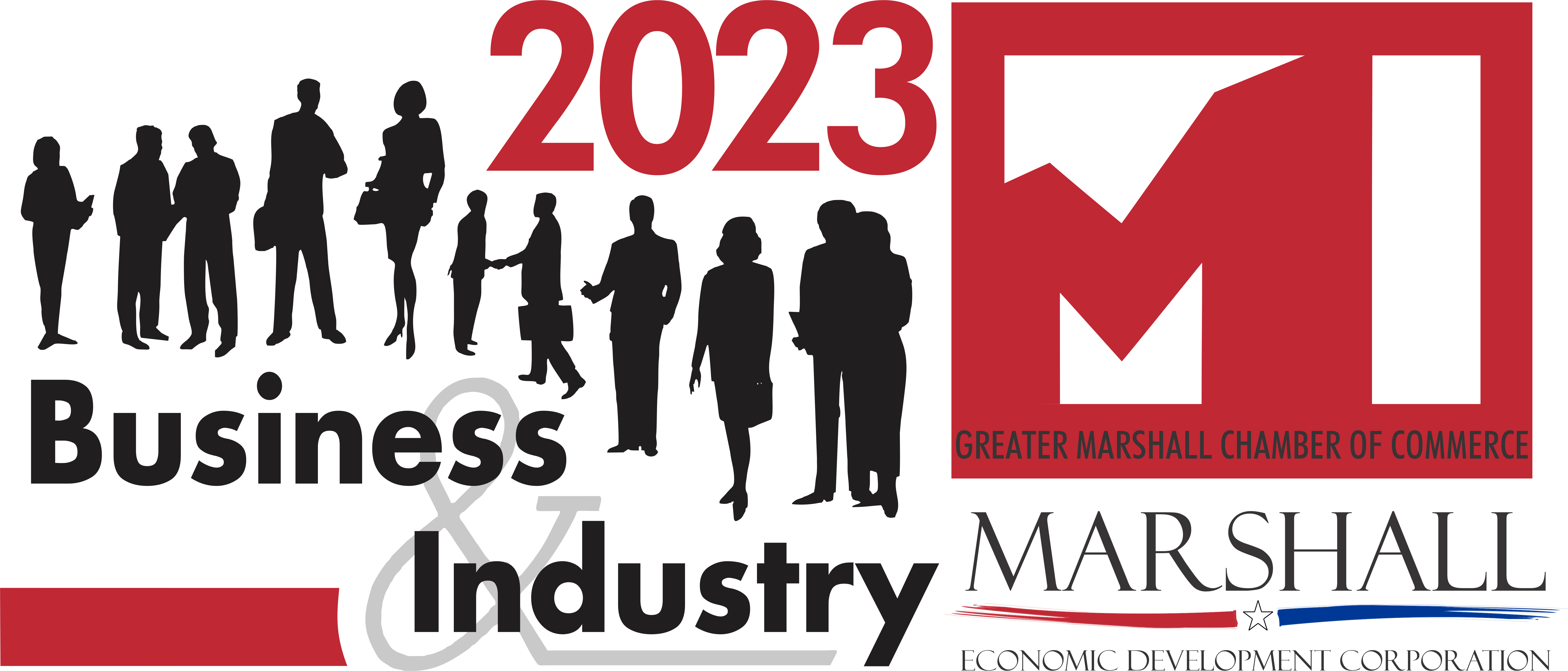 Presented by the Greater Marshall Chamber of Commerce and Marshall Economic Development Corporation (Marshall EDC) and in partnership with Genesis PrimeCare, Title Sponsor, Business and Industry event honors those in the community who not only strive to promote the success of local commerce, but who do so with positivity and exceptional service.
Register Here
Award Nominations are taken for:
-Employee of the Year
-Boss of the Year
-Non-Profit Organization of the Year
-Small Business of the Year
-Large Business of the Year
-Industry of the Year
Send Nominations by January 17, 2023, at 4:00p.m.  Describe in detail why your nominee deserves this award.  Fax your form to (903) 935-9982, scan or email to info@marshalltexas.com, or mail to Marshall Chamber of Commerce, P.O. Box 520, Marshall TX, 75671. For drop offs, the Chamber is open M-F from 9 a.m. to 4 p.m.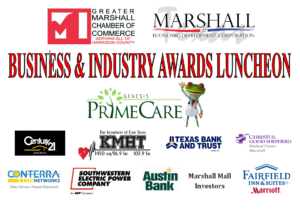 ---

2021-22 Award Winners
Employee of the Year: Sharon Ventimgilia, Tracy Andrus Foundation
Boss of the Year: Brad Burris, Century 21- A Select Group
Non-Profit Organization of the Year: Northeast Texas Habitat for Humanity
Small Business of the Year: Healthcare Express
Large Business of the Year: Marshall Hometown Tire 
Industry of the Year: East Texas Baptist University  
Legacy Award: Harrison County Historical Museum
2020 Award Winners
Employee of the Year: Darrel Bolden, Dairy Queen, Marshall
Boss of the Year: Brandon White, Marshall Homecare & Hospice
Non-Profit Organization of the Year: Boys & Girls Club of the Big Pines-Marshall
Small Business of the Year: Joe Pine Coffee Co.
Large Business of the Year: Oakwood House Senior Living Community 
Industry of the Year: Blue Cross Blue Shield 
Legacy Award: Matt Moore, Marshall Ford and Maverick Chevrolet
2019 Award Winners
Employee of the Year: Cammy Hutsell ,Marshall Homecare & Hospice
Boss of the Year: Paula Elliot , BancorpSouth
Small Business of the Year

(1-10 employees)

: Smart Advertising, Phil O'Bryant
Large Business of the Year (

11-50 employees)

: ELTEC, April Spears
Industry of the Year

(51+ employees)

: Marshall Independent School District ,Jerry Gibson, Superintendent
Non-Profit of the Year: Cypress Junior Women's Club
Legacy Award (formerly the Shade Tree Award): Patterson Chrysler Dodge Jeep Ram (Richard Traweek)
2018 Award Winners
Employee of the Year – Regena Scott, Fairfield Inn & Suites
Boss of the Year – Doug Heard, SIG Insurance
Nonprofit Business of the Year – Mission Marshall, Misty Scott
Small Business of the Year (1-10 employees) – Deborah's Boutique, Deborah Parker
Large Business of the Year (11-50 employees) – Marshall HomeCare & Hospice, Brandon White
Industry of the Year (51+ employees) – Harrison County, Judge Hugh Taylor
Legacy Award (formerly the Shade Tree Award): Bear Creek Smokehouse, Shoults Family
2017 Award Winners
Employee of the Year – Lorie Minter, BancorpSouth
Boss of the Year – Terri Brown, Citizens National Bank
Nonprofit Business of the Year – Community Healthcore, Patti Brady
Small Business of the Year (1-10 employees) – Meadowbrook Funeral Home, Melinda & Richard Gaulden
Large Business of the Year (11-50 employees) – Patterson, Chrysler, Dodge, Jeep, Ram, Richard Traweek
Industry of the Year (51+ employees) – General Cable
Legacy Award (formerly the Shade Tree Award): McKool Smith-Sam Baxter