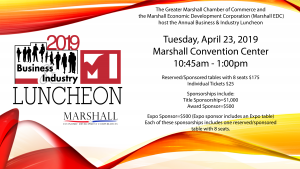 Business & Industry Luncheon ~ Tuesday, April 23, 2019
Presented by the Greater Marshall Chamber of Commerce and Marshall Economic Development Corporation (Marshall EDC), the Business and Industry Luncheon honors those in the community who not only strive to promote the success of local commerce on a continual basis, but who do so with positivity and exceptional service.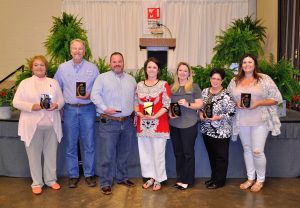 The 3rd Annual Business Expo was held in conjunction with the luncheon from 10:45a.m. – 1:00p.m., where businesses and organizations promoted their products and services to the community.
Award Nominations are taken annually for Employee of the Year, Boss of the Year, Non-Profit Organization of the Year, Small Business of the Year, Large Business of the Year and Industry of the Year.

2019 Award Winners
Employee of the Year: Cammy Hutsell ,Marshall Homecare & Hospice
Boss of the Year: Paula Elliot , BancorpSouth
Small Business of the Year (1-10 employees): Smart Advertising, Phil O'Bryant
Large Business of the Year (11-50 employees): ELTEC, April Spears
Industry of the Year (51+ employees) : Marshall Independent School District ,Jerry Gibson, Superintendent
Non-Profit of the Year: Cypress Junior Women's Club
Shade Tree Award: Patterson Chrysler Dodge Jeep Ram (Richard Traweek)

2018 Award Winners
Shade Tree Award – Bear Creek Smokehouse, Robbie Shoults
Employee of the Year – Regena Scott, Fairfield Inn & Suites
Boss of the Year – Doug Heard, SIG Insurance
Nonprofit Business of the Year – Mission Marshall, Misty Scott
Small Business of the Year (1-10 employees) – Deborah's Boutique, Deborah Parker
Large Business of the Year (11-50 employees) – Marshall HomeCare & Hospice, Brandon White
Industry of the Year (51+ employees) – Harrison County, Judge Hugh Taylor