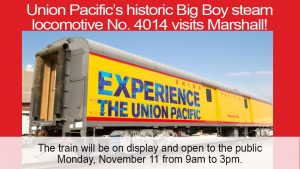 Union Pacific's historic Big Boy steam locomotive No. 4014 is touring the Union Pacific system throughout 2019 to commemorate the transcontinental railroad's 150th anniversary and is making a stop in Marshall, Texas.

The Big Boy will arrive in Marshall on Sunday, November 10 at 3:40 PM and will be on display on Monday, November 11 from 9 am- 3 pm at the Union Pacific rail yard (Main & Lake Street).

In addition to day-long display hours, display days include access to the Experience the Union Pacific Rail Car. Special-edition Big Boy and Golden Spike souvenirs also are available for sale from the merchandise tent. Admission to display days are free. These are the best times to see the Big Boy.
The Big Boy's return to the rails is the product of more than two years of meticulous restoration work by the Union Pacific Steam Team. No. 4014 is the world's only operating Big Boy locomotive.



Due to the dynamic nature of these operations, running times and scheduled stops are subject to change. To see the full schedule visit

https://www.up.com/heritage/steam/schedule/index.htm
---
2019 Leadership Marshall
For 28 years, the Greater Marshall Chamber of Commerce has been identifying and preparing future leaders through our professional development program, Leadership Marshall. Over 200 Leadership Marshall graduates from all areas of life have become acquainted with the challenges facing our area through face to face interaction with community leaders, small businesses and industries.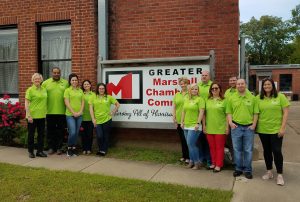 Each year, the Leadership Marshall program begins with an orientation retreat on the Ropes Course. Monthly meetings will occur one day per month from April through October. 
2019 Leadership Tomorrow
Leadership Tomorrow Marshall eighteen Marshall High School juniors the opportunity to develop and strengthen leadership skills through interaction with community leaders. The students will attend educational sessions on local business, health care, tourism, and government in Marshall from February to May 2019.
Leadership Tomorrow is an annual partnership between our generous sponsor Richard Traweek of Patterson Chrysler Dodge Jeep Ram, Marshall High School, Greater Marshall Chamber of Commerce, Marshall City Council PTA and MISD.
2019 Patterson Dodge Leadership Tomorrow class of Marshall High School