---
2019 Leadership Marshall
For 28 years, the Greater Marshall Chamber of Commerce has been identifying and preparing future leaders through our professional development program, Leadership Marshall. Over 200 Leadership Marshall graduates from all areas of life have become acquainted with the challenges facing our area through face to face interaction with community leaders, small businesses and industries.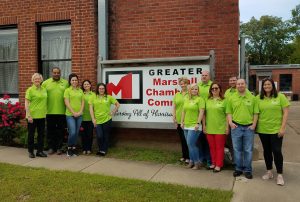 Each year, the Leadership Marshall program begins with an orientation retreat on the Ropes Course. Monthly meetings will occur one day per month from April through October. 
2019 Leadership Tomorrow
Leadership Tomorrow Marshall eighteen Marshall High School juniors the opportunity to develop and strengthen leadership skills through interaction with community leaders. The students will attend educational sessions on local business, health care, tourism, and government in Marshall from February to May 2019.
Leadership Tomorrow is an annual partnership between our generous sponsor Richard Traweek of Patterson Chrysler Dodge Jeep Ram, Marshall High School, Greater Marshall Chamber of Commerce, Marshall City Council PTA and MISD.
2019 Patterson Dodge Leadership Tomorrow class of Marshall High School