2019 Business & Industry Luncheon
Presented by the Greater Marshall Chamber of Commerce and Marshall Economic Development Corporation (Marshall EDC), the Business and Industry Luncheon honors those in the community who not only strive to promote the success of local commerce on a continual basis, but who do so with positivity and exceptional service.   Award Nominations are being taken now for Employee of the Year, Boss of the Year, Non-Profit Organization of the Year, Small Business of the Year, Large Business of the Year and Industry of the Year. Deadline for Nominations is Friday, April 12, 2019, at 4:00p.m.
The 3rd Annual Business Expo will be held in conjunction with the luncheon from 10:45a.m. – 1:00p.m., where businesses and organizations promot their products and services to the community (Limited Tables Available) 

2019 Waskom Annual Chamber Banquet
Join Keynote Speaker, Jack Dillard Sr., for a festive night of "Reflections of Waskom" as the Waskom Chamber of Commerce celebrates the 125 years of city history.  We expect this event to be a sell-out on April 1, 2019, so buy your sponsored tables (8 seats) or individual tickets early.
ONLY A FEW SPACES LEFT!

Call Kim Brown at (903) 935-7868 TODAY!
For 28 years, the Greater Marshall Chamber of Commerce has been identifying and preparing future leaders through our professional development program, Leadership Marshall. Over 200 Leadership Marshall graduates from all areas of life have become acquainted with the challenges facing our area through face to face interaction with community leaders, small businesses and industries.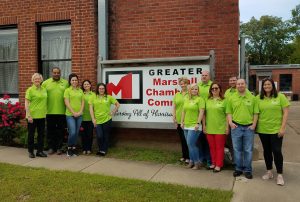 Each year, the Leadership Marshall program begins with an orientation retreat on the Ropes Course. Monthly meetings will occur one day per month from April through September.  Annual fee is $450 per participant. Would you like to join this prestigious program for 2019?  Please contact Kim Brown, Special Events Coordinator, at kbrown@marshalltexas.com or (903) 935-7868 for more information.

2019 Leadership Tomorrow
Leadership Tomorrow Marshall eighteen Marshall High School juniors the opportunity to develop and strengthen leadership skills through interaction with community leaders. The students will attend educational sessions on local business, health care, tourism, and government in Marshall from February to May 2019.
Leadership Tomorrow is an annual partnership between our generous sponsor Richard Traweek of Patterson Chrysler Dodge Jeep Ram, Marshall High School, Greater Marshall Chamber of Commerce, Marshall City Council PTA and MISD.
2019 Patterson Dodge Leadership Tomorrow class of Marshall High School