Harrison County is home to the famous Mr. R.E. Josey, Mrs. Martha Josey, and The Josey Ranch.
R.E. Josey, three-time AQHA World Champion Calf Roper, left his mark on the world by winning his prestigious titles on three different horses; Major Chalfant in 1970, a sorrel stallion named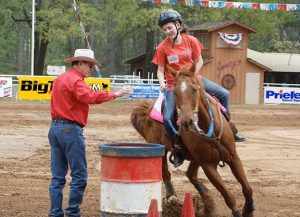 Toebars in 1972 and Silver Creek Jak in 1974. Toebars was ridden in 40 AQHA calf-roping competitions and won 35. R. E.'s unique skills of selecting and training winners- combined with his ability to work with both horse and rider to make them a winning team has been sought after by top ropers and speed-event competitors alike. R.E. was inducted into the Texas Cowboy Hall of Fame, the Texas Rodeo Hall of Fame, and the Ark-La-Tex Sports Museum in 2008. R. E. continued to compete in Team Roping competitions for many years.
Together with top instructor, Jeb Barney, R. E. produced a series of video tapes designed to take calf ropers "back to the basics" by teaching the foundation necessary for beginners and essential for serious competitors going for that all important win. R.E. passed away in 2022, but his legacy will live on through the Josey Ranch.
WPRA, AQHA and NBHA World Champion, Martha Josey, has continued her legendary career on many horses, reflecting her keen training and horsemanship ability. Beginning in 1964 on her great gelding, Cebe Reed, this explosive pair won 7 horse trailers and 52 barrel races in a row. Cebe qualified Martha for her first NFR in l968 and again in l969. Martha later teamed up with her immortal gelding, Sonny Bit O'Both, and this powerful combination went to the NFR 4 years in a row, from 1978 to 1981. In 1980, Sonny set an all time record of being the only horse in history to win the AQHA and WPRA World Championships in the same year and continues to hold this record today.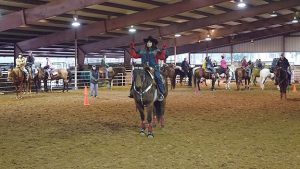 Inducted into the Cowgirl Hall of Fame in 1985, Martha continued competing and winning on the Pro Tour Circuit, aboard a new partner, Jetonfer Pay, who she rode to the NFR, also in 1985. Swen Sir Bug, or "J. C.," qualified Martha for the NFR in 1987 and was the champion she chose to ride while representing the United States in the 1988 Winter Olympics in Calgary, Canada.
History was made once again as Martha Josey received a medal in front of 100,000 people and returned home an Olympic medallist. Mr. Revolution Bars took Martha to the NFR in 1989 and again in 1990 helping her go to the NFR in four consecutive decades. "Rev" won the 1990 All American Quarter Horse Congress and was the two-time Wrangler Showdown Champion.
In 1997, Martha rode a stunning 16.2 sorrel gelding named Orange Smash to win the NBHA Senior World Championship and Reserve Open 1-D Championship in Augusta, Georgia at the NBHA World Championship Finals.
Josey Enterprises is a Member Investor of the Greater Marshall Chamber of Commerce.
WHERE THERE IS A WILL, THERE IS A WAY.

"When I started barrel racing, I had no arena, no cowboy boots, no barrel racing saddle and no entry fee money. But I hunted up three old trash cans and put them on a little spot of ground in my grandmother's meadow. Grandma's hay crop was not too good that year, but my barrel racing sure improved!  Being a goal setter is a must for every barrel racer. You've got to WANT the win! You have to set the goal, want it and then go for it." Martha Josey