Chamber Member Investors and Friends,
It is 7:40p.m. on Wednesday, November 30, 2016, and I am waiting patiently in the Chamber office for our new website to i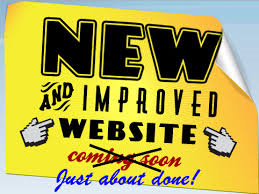 ntegrate in to our existing www.marshalltexas.com. Our new website has been a mixed blessing.  After the last three weeks, I understand that website development is not my spiritual gift, but it has been a labor of love as I worked to create an information resource for our community, visitors and Member Investors of the Greater Marshall Chamber of Commerce.  The goal was to provide a clean, easy to understand format as we became a premier clearinghouse of information for our community with an emphasis on advocacy for our Member Investors.
WHAT IF MY BUSINESS ISN'T ON THE MEMBER LIST? With limited time, each Member Investor was uploaded with a new profile page upon payment of their 2017 dues.  This practice was the only fair use of time as I am the only full-time employee of the Greater Marshall Chamber of Commerce.  I can assure our Member Investors that I have invested all of my professional time and most of my personal time in this endeavor with many nights at the Chamber or my personal computer at home.  Remaining profiles will be activated as quickly as humanly possible so our Member Investors can take full advantage of the wonderful benefits of our new website.
HOW DOES MY BUSINESS GET AN EMAIL AND PASSWORD FOR THE WEBSITE TO UPDATE MY PROFILE AND SUBMIT A DEAL?  If you have paid your 2017 membership dues, your business will be sent a password to the email address you provided the Chamber.  If your business did not provide an email address to the Chamber at the time of your registration and/or renewal, it will be necessary to call your business and that will result in a delay.
CAN MY BUSINESS STILL JOIN OR RENEW OUR MEMBERSHIP TO TAKE ADVANTAGE OF THE WEBSITE?  CAN I JOIN IF I AM AN INDIVIDUAL? If you haven't already renewed your

membership for 2017, please consider joining today!  Our membership drive is continuing in December to build the Greater Marshall Chamber of Commerce.
HOW DO I SEND IN DATES FOR THE COMMUNITY CALENDAR?  Please submit the name of the event, sponsoring organization, website link and/or Facebook link, address, phone number, ticket information, short summary and a photo or image for publicity purposes.  The Greater Marshall Chamber of Commerce does not accept responsibility for a misprint of information submitting incorrectly by an individual, organization or business. 
WILL THE CHAMBER OFFER TRAINING ON THE USE OF THE WEBSITE?  Yes!  It is our goal for ALL our Member Investors to get the most out of our website, their profile, deals, and the calendar.  We will host a training class after the holiday season.
As always, please call me at the Chamber if you have any questions at (903) 935-7868.
Stormy Nickerson, Executive Director