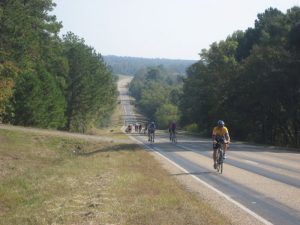 TourDeFireAnt – 5L – *NEW* 1 Mile Fun Walk – October 14, 2017
The 35th Annual FireAnt Festival features the 29th Annual TourDeFireAnt Bike Ride, a 5K and a NEW 1 Mile Fun Walk for our favorite FireAnt fans!
**NEW EVENT FOR 2017**  1 Mile "Fun Walk / Run" – Only $17.50 (pre-registration) Pre-registered participants will be guaranteed to receive a t-shirt & fireant antennas. All other participants will receive fireant antennas and t-shirt as quantities/sizing are available on day of the event. Preferred sizes may not be available on the day of the event.
Registration Begins at 7:00a.m. with Run at 8:00 a.m. and Ride at 9:00 a.m.
Registration & packet pickup will begin at 7:00 in the 200 block of W Houston on the morning of the ride, one block from the downtown square. The run will be begin at 8 a.m. The bike ride will begin at 9 a.m.  For the bike ride, there will be a staggered mass start according to distance.
REGISTRATION FEES
The entry fees are as follows: For pre-registered pricing, the entry has to be received by Wednesday, October 11. After that date, the regular pricing applies. NO REFUNDS WILL BE MADE:

1 Mile Fun Walk/Run – $17.50 Pre-registered/$20 Day of event
5K Only – $20 Pre-registered/$25 Day of event
Bike Ride Only – $35 Pre-registered/$40 Day of event
5K AND Bike Ride Combo – $50 Pre-registered/$60 Day of event
All events will be held regardless of weather.
All pre-registered participants will receive a t-shirt. Pizza will be served to registrants beginning around 11:00 a.m. For registrants that are over the age of 21, beer will be served. Our over the age of 21 registrants will also have a chance to win a Trek road bike from our sponsor, R&K Distributors!
DAILY PHOTOGRAPHY EVENT PHOTOS
For more information: Phone: (903)935-7868 Email: info@marshalltexas.com
Sponsored by The Marshall Texas Chamber of Commerce