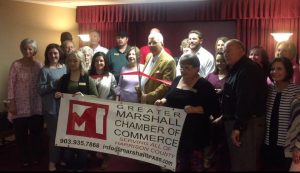 William "Doc" Halliday Publications is known throughout Marshall, but this Ribbon Cutting was to announce the publication of his historic articles in the Jefferson Jimplecute.  The "Jefferson Jimplecute" is the newspaper of record in the city of Jefferson, Texas. It was founded in 1848 by Ward Taylor and is the fifth oldest newspaper in the state.  William "Doc" Halliday Publications can also been seen in newpapers in other states.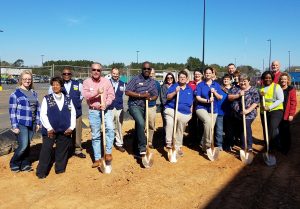 No one can beat a Ground Breaking in the beautiful sunshine.  Murphy USA convenience store at 1605 East End Blvd South in Marshall hosted the Greater Marshall Chamber of Commerce on Friday, March 3, 2017.  The newly renovated store will feature 6 grades of fuel at every pump and an indoor convenience store with full service vending, hot food, and adult beverages.  The new store is expected to be open in June of 2017.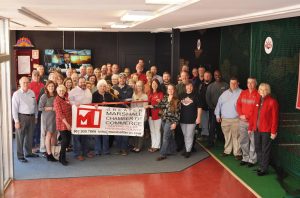 The Greater Marshall Chamber of Commerce was honored to welcome Kyle McKinley of Herbitech with a Ribbon Cutting on Thursday, March 2, 2017, at The Infield Downtown.  Herbitech promises that uour Neighbors will be Green with Envy … And Your Grass will be Even Greener!  Herbitech LLC of Harrison County specializes in commercial, residential, industrial and aquatic weed control.  They also offer a specialty fertilizer that is designed for East Texas.  Water bills Draining Your Budget? To cut your water usage by 50% of more, call Herbitech at (318) 218-5753 for more information!
T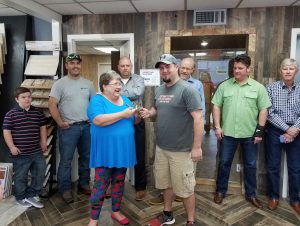 he Perry family and Perry's Hometown Flooring of Marshall rolled out the red carpet for the Greater Marshall Chamber of Commerce at their official Grand Opening and Chamber Ribbon Cutting on Friday, February 24, 2017.  Perry's Hometown Flooring is located at 2909 S. Washington in Marshall.  Perry's Hometown Flooring is your local retailer and installation specialist all types of flooring. They are most well known in the Ark-La-Tex for custom showers and quality workmanship. Hometown Flooring features tile, stone, granite, hardwood, carpet, vinyl, and VCT.  If you want exceptional service and the best products, call (903) 930-5806 or go by to see Hometown Flooring!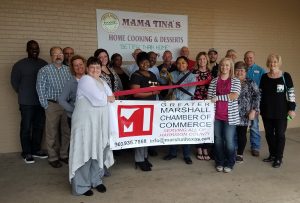 Sonya Flowers and her mother, Mama Tina, had a dream to open a family restaurant in Marshall, Texas, with a focus on family flavors and delicious desserts.  On Friday, February 17, 2017, the Chamber Ambassadors, Board and valued community members celebrated their accomplishments with a Ribbon Cutting followed by a mouth watering lunch of home-style favorites.  Plates were complete with meatloaf, brisket, catfish, mac n' cheese, mashed potatoes, hot water cornbread and homemade banana pudding.  If you are looking for a great meal at good price, visit Mama Tina's Home Cooking & Desserts at 200 W. Pinecrest Drive in Marshall.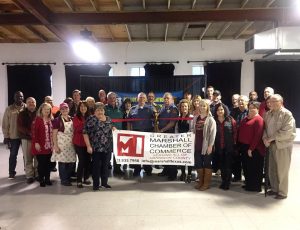 Bullock Investigations of Longview, Texas, was featured at the Greater Marshall Chamber of Commerce during our Midmorning "We LOVE Our Members" Mixer on Tuesday, February 14, 2017. The experience staff of Bullock Investigators and Security Management Team are all former and retired Law Enforcement with extensive backgrounds in Criminal and Civil Investigations, Security Issues, Training, and Crime Prevention/ Detection. They have been in business since 2009 and have a combined experience of over 60 years.