Access Family Health and Dr. Shaun Kelehan invite your crawler to participate in the Famous Diaper Derby at the 36th Annual FireAnt Festival
Telegraph Park at 11:45a.m.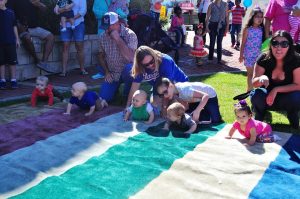 Division 1: 9 months & Up and Division 
FREE Race Registration with Fisher Price Prizes awarded  REGISTER HERE
Rules:
Only crawlers, no walkers.
A parent or other interested adult is allowed at the start and end of the carpet. A toy or other object may be used to entice the crawler to the end of the carpet.
The first baby to cross the finish line of each heat will compete in finals.
The decision of judges is final.