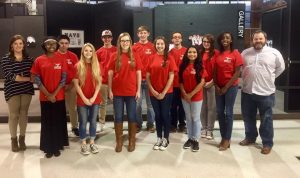 The Greater Marshall Chamber of Commerce, in partnership with Patterson Chrysler, Dodge, Jeep, Ram and Patterson Toyota, presents the 2017 Leadership Tomorrow Class of Marshall High School.
Pictured left to right: Kristin Skinner of Patterson, Abigail Janvier, Pedro Tovar, Paige Miller, Cade Bickerdike, Sarah Craig, Chandler Kelehan, Olivia Runnels, Dakota Epps, Lorraine Raymundo, Samantha Reeves
, Nakayla Willie, and Richard Traweek, Managing Partner of Patterson Auto Group. Not pictured, Shamar Rose.
Leadership Tomorrow Marshall offers 12 Marshall High School juniors the opportunity to develop and strengthen leadership skills through interaction with community leaders. The students will attend educational sessions on local business, health care, tourism, and government in Marshall from February to May 2017. Leadership Tomorrow is an annual partnership between Patterson Chrysler Dodge Jeep Ram Patterson Toyota, Marshall High School, Marshall Chamber of Commerce, Marshall City Council PTA and MISD.
Students can expect to begin their program itinerary with a Business and Industry emphasis, touring Bear Creek Smokehouse, Meadowbrook Funeral Home, Eltec, MEDCO, and Bancorp South on February 1, 2017. Thank you to our local businesses for this opportunity to expose our youth to the various economic environments of our community, and the importance of investing in that community as future leaders.