The largest event of the year, the Greater Marshall Chamber Annual Awards Banquet honors those in the chamber who have made a significant impact in the community. The event draws over 300 attendees and is a celebration of the accomplishments of the previous year.  This year's theme is "There's No Place Like Home" as the Greater Marshall Chamber of Commerce features the special events, community success stories and vital economic developments in 2016 for Harrison County.
The 2017 Chamber Banquet will be held on March 7, 2017, at the Marshall Convention Center.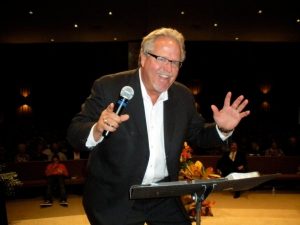 The featured speaker will be Dr. Dennis Swanberg.
http://www.dennisswanberg.com/mission.php
"'The Swan' is a tremendously talented guy, a great friend of everyone at the Fellowship of Christian Athletes, and always the first entertainer we try to book for any of our special national or regional events."
 "His humor is side-splitting hilarious. His impressions of Hollywood stars and politicians are spot-on. And always, his closing message is very appropriate for his

audience and also very memorable. Dennis is quite simply the best!"
Les Steckel, Fellowship of Christian Athletes
Longtime NFL coach and President/CEO
Each year, the Chamber recognizes the Citizen of the Year and Ambassador of the Year. In 2017, our 2016 Citizen of the Year, MISD Board of Trustee President Helen Warwick, will present the new 2017 Citizen of the Year. Ruby Pye, 2016 Chamber Ambassador of the Year, will award the 2017 Ambassador of the Year.  The Chamber will begin accepting nominations for our 2017 Citizen of the Year on January 23, 2017.  At that time, the nomination form will be released to Member Investors and the community.
2017 Banquet tickets, tables and sponsorships are available online now. Individual tickets are $50 each and Sponsored Tables are $500 for tables of 10 seats.  Tickets and tables may be purchased online at http://marshalltexas.com/events/#!event/register/2017/3/8/2017-chamber-banquet.
Silent auction items, raffle items, and live auction items are currently being accepted. Please call Kim Brown, Chamber Events Director, at (903) 935-7868 or email kbrown@marshalltexas.com.
       PRESENTING SPONSOR